Pattie Buchanan, the former principal at Thurgood Marshall Elementary School, loved reading, loved teaching kids the importance of literacy and loved libraries.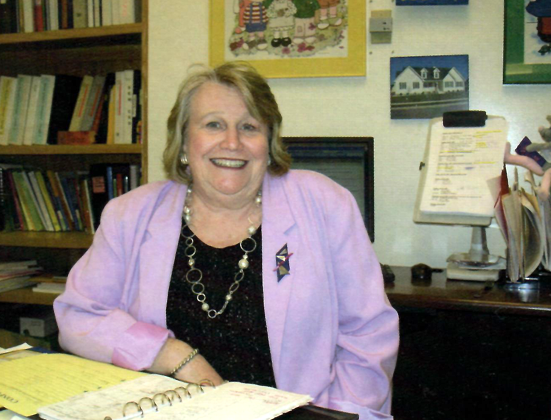 Therefore, it's only fitting, her friends and family members say, that Marshall's library is named in her memory.
"I think she would be so pleased that this library is going to be a special place for kids to come and read and maybe take away a piece of her love for reading and education," friend and former colleague Sue Timpson said.
Timpson was one of several hundred people who attended Thursday's emotional ceremony officially renaming the library after Buchanan, who died last year.
"My mother loved this school," Buchanan's son, Ryan, told the crowd. "This was her home."
Buchanan's career began in 1972 as a home economics teacher at Conrad High School, and after taking a few years off to raise her own children, she later spent 25 years as an educator in the Christina School District.
Her work in Christina came first as a parent and active PTA member, and she later joined the district as a substitute teacher and later a full-time kindergarten teacher at Cobbs Elementary School, which is now Gauger-Cobbs Middle School. In 1994, she was named Delaware Teacher of the Year
She later transferred to Marshall as a kindergarten teacher. After a stint as an administrator in the district office, she returned to Marshall as assistant principal and then principal. She served in that role until retiring in 2011. Even then, she didn't stop encouraging Marshall students to read, often returning to the school as a guest reader.
Beyond her duties as an educator, she also volunteered with the Girl Scouts, counseled women in prison and participated in other volunteer projects through Alpha Delta Kappa, a sorority for female educators.
Amy Selheimer, the current principal at Marshall, recalled that she and Buchanan often would go to Epiphany House in Wilmington, where they had dinner with women recently released from prison.
"When we would engage these women at dinner, we provided them a sense of community. That was something Patty knew well; it was exactly what a library does, too," Selheimer said. "I realized that a library gives us here at Marshall, just like a dinner table, a place to gather, a place to meet, a place to read, a place to laugh, a place to discuss ideas and to learn."
Claudia Martin met Buchanan while they both worked at Cobbs Elementary, and they became fast friends.
"From the time I met her, she made every day a happy day with that special Patti laugh," Martin said. "There was always a joke or a story that she would have to tell."
Martin presented Buchanan's family with a custom-made quilt adorned with the names of all her children and grandchildren, as well as words that describe her.
"She will live in our hearts," Martin said.
At the conclusion of the ceremony, Buchanan's grandchildren unveiled the plaque that will forever enshrine her memory in Marshall's library.
But, Ryan Buchanan said, her legacy goes beyond any plaque.
"The legacy my mom leaves behind isn't for us, but within us, a part of us," he said. "I see that in everyone that came out tonight. Anyone who was touched by her presence, her words, her service or her support, just know that for us, that's her legacy. You are her memorial as much as anything else."
Along with renaming the library, school officials also launched a fundraising campaign to improve it.
"Our library is a unique and valuable resource. It's a lifeline to the world and all the information in it," Selheimer said. "But yet, we struggle, as all schools do, to keep up with the changes in technology, rising costs of books and other materials, budget shortages and a growing demand from our customers, or our community, for more information."
The school is looking to raise approximately $5,000 for new furniture, murals and increased technology. So far, nearly $1,000 has been contributed online. Meanwhile, members of Girl Scout Troop 838, many of whom attended Marshall when Buchanan was principal, donated a number of books.