During the three years Sean Locke and his college buddies lived at 136 W. Main St., the house was a gathering place.
"He loved every minute. He welcomed everybody who walked through the front door with a big smile," Sean's father, Chris Locke, recalled. "He was always so happy to see you come to his house."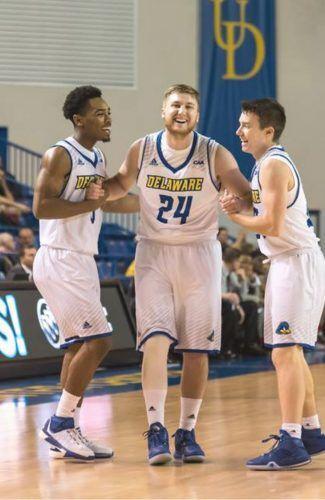 Unbeknownst to his family and friends, though, beneath that outward joy, the gregarious basketball player was struggling with depression, and in 2018, two years after graduating from the University of Delaware, Sean took his own life.
Later this month, 136 W. Main St. will once again become a gathering place as the Locke family and their supporters open Sean's House, a support center for high school and college students struggling with depression or other mental health issues.
"Sean's House is a safe haven," Locke said. "It's a place where young adults, 14 to 24 years old, can come in and get help and find the right path to mental health wellbeing."
The house will be staffed by three psychology doctorate students from the University of Delaware, who will live there free of charge in exchange for helping provide services and will be able to evaluate students' needs and get them the help they require. The house will be open 24/7 to any teen or young adult who needs somebody to talk to about what they're feeling.
It will also run a peer support network, through which students will be matched up with peers who have battled similar issues.
"So if you're a 19-year-old and you're dealing with an eating disorder, you're matched up with a peer who's dealt with that issue," Locke explained. "If you're a student athlete that can't deal with the stress that comes with being a student athlete, there's a student peer who can speak to you about it."
All the services will be available free of charge.
"We don't want anyone to not get the help they need because they can't afford it," Locke said.
The program is funded by SL24: UnLocke The Light, the nonprofit founded in Sean's memory. The organization takes its name from the number Sean wore as a basketball player for the Blue Hens.
Locke noted that, on the outside, Sean appeared to have everything going for him.
He was popular, served as captain of his basketball team, played in March Madness and, after graduating, got a good job working for Buccini-Pollin Group in Wilmington. He never told his family or friends that he was struggling.
"Sean and I were very close. We talked about everything and we talked nearly every day, but Sean never told me about his battle with the insidious disease called depression," Locke said. "Our little boy suffered in silence until the disease ravaged his brain so much that his brain attacked him on July 18, 2018. No different than when a heart attacks you with heart disease or blood cells attack you with cancer, depression is just like any other disease. It is indiscriminant, it does not care what you look like, it doesn't care how much you make, or how successful you appear to be. It can get you."
Locke believes Sean didn't want to open up about his struggles because, as an athlete, he didn't want to show any signs of weakness.
At Sean's viewing, which was attended by 4,000 people, many parents came up to Locke and expressed their worry that their kids could be suffering in silence as well. It was then that Locke and his family decided to channel their grief into action by founding SL24: UnLocke The Light.
"We felt that Sean's legacy could be to help other kids," Locke said.
In the past two years, SL24 has raised several hundred thousand dollars, and members have spoken to more than 9,000 high school kids about mental health and suicide prevention.
The opening of Sean's House will take the group's work to the next level.
"Suicide is a brief moment in one's life that the despair is so overwhelming that they feel life is not worth living," Locke said. "What we're hoping for Sean's House is that it can show these young adults there are options and alternatives. We just need to get them to that light so they can get out of the darkness."
Sean's House is slated to open Sept. 24, and on Monday, city council enthusiastically granted the special-use permit the organization needed to open the facility.
"This will enable a really great kid to continue to be a loving presence in our community," Councilman James Horning Jr. said.
Mayor Jerry Clifton noted the issue hits close to home for him, because he lost one of his best friends to suicide a number of years ago.
"In 21 years, I've never made a vote as important as this," Clifton said, moments before the permit was approved unanimously. "What a great moment for mental health in the city of Newark."