Parking in downtown Newark got a little bit easier last week when the city of Newark opened a new municipal parking lot.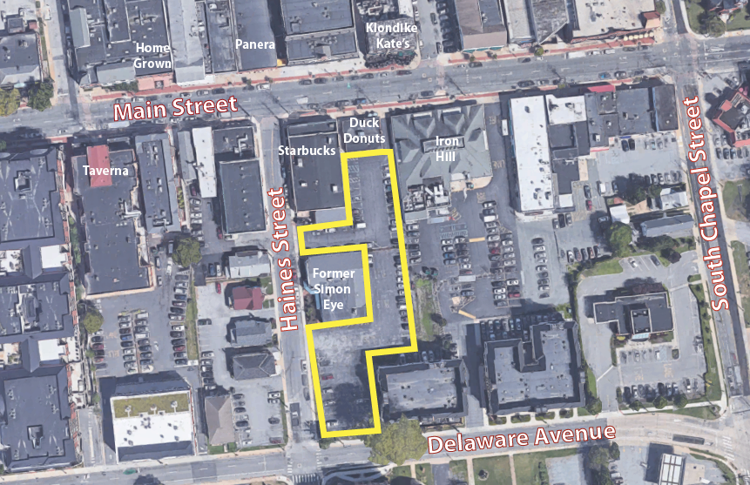 Known as Lot #7, the lot at the corner of Haines Street and Delaware Avenue includes 80 parking spaces.
"The thing that attracted us most to this was Lot 4 [behind Panera Bread] is our most popular, and this one is as close or closer to the restaurant section," City Manager Tom Coleman explained in an interview last month. "So we see it as a pretty desirable location, especially the fact that you can get to the lot from Delaware Avenue without having to drive on Main Street."
The increased parking is intended to signal to residents and visitors that Main Street remains open for business.
"That's the goal and the message: Please come downtown and support our businesses," Coleman said.
The new parking includes the lot surrounding a now-vacant building that was previously home to Simon Eye Associates – spaces not previously available to the public. It also includes a portion of the lot behind Duck Donuts and Starbucks.
City officials paved over a grass median separating the two properties, creating one large lot accessible from Main Street and Haines Street, and installed multi-space kiosks identical to those recently installed on Main Street and in the lot behind the Main Street Galleria. Customers can pay by their license plate at the kiosk or with a mobile app.
The fee to park is 50 cents per half hour, the same as in the city's other lots.
The city is paying $5,000 per month to lease the lots and will pay for the lease with revenue the city makes from the lot.
"We're confident the lease will pay for itself," Coleman said.
Both properties were recently purchased by Newark Main Street Acquisition Co. LLC, a firm tied to developer Todd Bariglio, who built the Rittenhouse Station retail and apartment complex on South Main Street and most recently developed the Linden Hill Station mixed-use complex in Pike Creek.
The city's lease runs through at least the end of 2020, and can be renewed in three-month intervals. Eventually, Bariglio plans to redevelop all or some of the land, though those plans have yet to be filed.
Some spaces still free for customers of certain businesses
Notably, the city's lease does not include the roughly 15 spaces that are reserved for customers of Duck Donuts, Starbucks and Del One Federal Credit Union.
The spaces allotted to those businesses – each marked by a sign bearing the business' logo – will remain free, but only to customers of those businesses. As was the case previously, motorists who park in those spaces and go elsewhere could be towed.
City officials had originally hoped the businesses would agree to give up their spaces.
"We're hoping that they work with us because there's better ways to do parking than signed parking that only certain customers can use for certain businesses," Parking Supervisor Courtney Mulvanity said in December. "In a shared situation, it helps everybody."
However, that idea was not well-received by the business owners or their customers.
"There's no way my business could survive with doing that," Duck Donuts owner Robin Griffith said. "I rely on those dash-and-go spaces."