The state of Delaware has acquired 32 acres of land along New London Road, expanding White Clay Creek State Park and protecting the wooded land and meadows from development.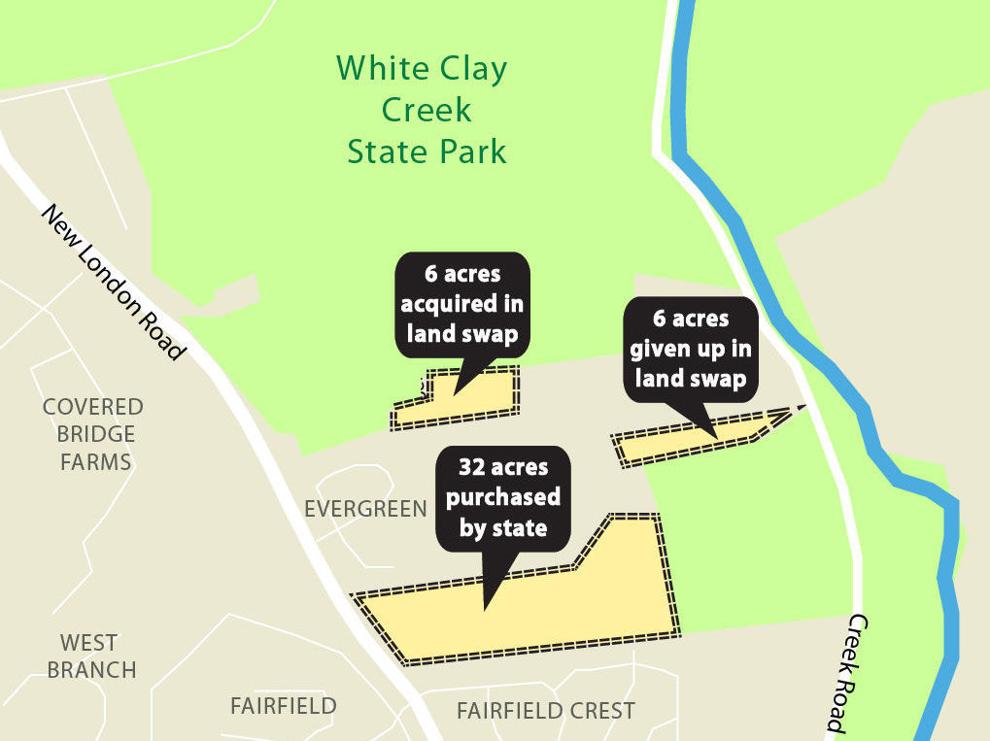 The $2.6 million purchase amounts to the largest land acquisition for WCCSP since 2003, Delaware State Parks Director Ray Bivens said.
"We're thrilled because it's a great wildlife corridor, and you have a big chunk of mature forest that we're protecting," Bivens said. "White Clay is such a special park. If you look at that corridor between Baltimore and Philadelphia so close to I-95, to be able to still add, in an urban area, big chunks of land like this is always pretty special."
He said the state has been in talks with the property owner for decades and was able to purchase the property with money from the Delaware Open Space Program, which is funded by the state and administered by a citizen board.
The land purchased by the state fronts on New London Road, between the Fairfield Crest and Evergreen neighborhoods, and extends back to existing parkland along Creek Road.
Bivens added that the property could have been an ideal location for development, but the owners rejected higher offers from private developers.
"The owners that we worked with wanted to see this land added to the park," he said.
The deal also includes a land swap. The state is receiving 6 acres adjacent to the Krantz Hill Farm, an educational farm located in WCCSP, while the property owner is receiving 6 acres of parkland near one of its houses.
Land use records identify the property owners as BF3 Limited Partnership and Borcherdt Family LP, both of which trace back to Fred H. Borcherdt. The Borcherdt family is retaining approximately 70 adjoining acres, including two houses.
Bivens said the most immediate plan is for park staff to access the new parkland and begin controlling invasive species.
"It does open up some great opportunity for trail connections, potentially," he added.
The acquisition continues a decades-long tradition of private landowners selling or donating land to expand WCCSP. The original park consisted of land DuPont had bought for use as a reservoir and then donated to the state after bowing to public sentiment against the reservoir. Since then, dozens of tracts of land have been added to the park.
Since 1988, the Delaware Open Space Program has provided nearly $62 million to add 2,210 acres to WCCSP.
"I really think of White Clay as kind of the people's park in a lot of ways because there's advocates out there, great people like Don Sharpe, that fight for open space funding," Bivens said.