A virtual community meeting next week will allow residents of northern Newark to learn more about and weigh in on two land-use proposals.
The meeting is set for 6 p.m. May 28. Those interested can tune in at https://www.gotomeet.me/NewarkDECityCouncil/communitymeeting or call in by dialing 872-240-3412 and using the access code 434-089-605. It is an informal meeting intended to foster community discussion. A vote by city council will come later.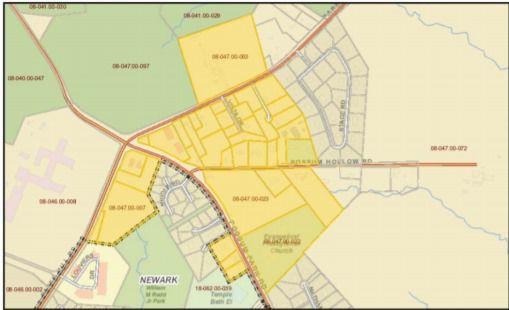 During the meeting, city officials will discuss a proposal to add Planning Area 7 to the comprehensive development plan, which would designate the area surrounding the intersection of Paper Mill Road and Possum Park Road as a place for future annexation into the city.
The proposed Planning Area 7 includes areas north of Newark along Paper Mill Road, Possum Park Road, Possum Hollow Road, Vista Drive, and Waltmonte Lane.
Notably, approval of the proposal would not automatically annex any property or require property owners to annex into Newark. It simply opens the door for future annexation applications because by law, properties must be part of a planning area before they can be considered for annexation.
The proposal was prompted by an annexation request from attorney Max Walton, who is seeking to build 10 single-family homes on 4.5 acres. Access to the neighborhood would be off Possum Hollow Road, and the neighborhood would back up to Paper Mill Road. Two dilapidated old houses on the property were recently demolished, and a third will be knocked down if the project is approved.
Next week's meeting will also provide information about Walton's development proposal, which has already drawn criticism from some neighbors.
Click here for details about Max Walton's development proposal.
Click here for previous Newark Post coverage of the plan.