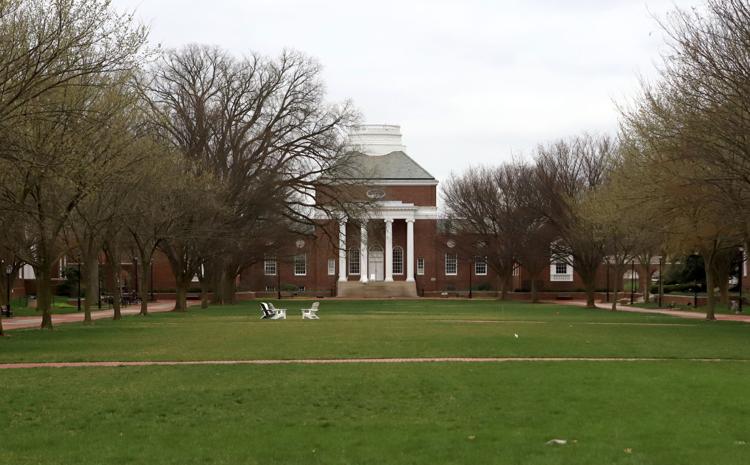 In just over a month, Newark's population will nearly double as University of Delaware students make their yearly trek back to campus.
The students will breathe more life into town, bring much-needed business to the restaurants and shops and – if past years are any indication – some of them will annoy their neighbors with loud music and parties.
Such is life in a college town. But the worry among many Newarkers this year goes far beyond the usual town-and-gown tensions. Will the students bring the coronavirus with them as they return to Newark?
Mayor Jerry Clifton said that's a real concern he has heard from a number of constituents. He noted that many of the students will be coming from states where the coronavirus outbreak is worse, and others have spent time at beach communities where the virus is spreading.
All it would take is for a few students who are asymptomatic to patronize a crowded bar or attend a large house party, and they could pass it on to others who likely would infect other Newarkers at grocery stores, restaurants, etc.
"My primary concern is if we see a spike in Newark, by the time we see it, it's too late to respond to the spike. All we can be is reactionary at that point," Clifton said.
In an attempt to head off any problems, city officials proposed an emergency ordinance that would reinstate the ban on private gatherings of more than 10 people and prohibit restaurants from serving customers at the bar. However, city council decided Monday night to delay consideration of the ordinance after getting pushback from business owners concerned about the restrictions on bars.
Clifton said he plans to meet with business owners and UD and expects council to consider some version of the ordinance Aug. 10.
"We're getting a lot of concerns from the residents of Newark, and I think that we need to be proactive," he said.
In March, Newark saw Delaware's first coronavirus cases, many of which were traced back to a UD professor who had attended a party in New Jersey. Since then, however, the city has fared far better than some other areas of the state.
According to data from the state, the city of Newark has seen a total of 155 confirmed cases and 11 deaths. Statewide, there have been 12,804 cases and 517 deaths.
City leaders have credited their early action with preventing a more serious outbreak here.
After St. Patrick's Day partying sparked concern, Newark was among the first in the state to restrict gatherings and restaurant service. Newark Police used the law at least four times, issuing citations for parties held on Choate Street, Benny Street, East Park Place and Main Street. In some of those incidents, as many as 12 party attendees were cited.
Newark's restrictions were later repealed as the city chose to follow state guidelines, which were gradually loosened in June. Current rules allow gatherings of up to 250 people as long as social distancing protocol is followed and allow restaurants to be open at 60 percent capacity.
Clifton praised Newark residents for taking the virus seriously, wearing masks and practicing social distancing.
"We all recognize Newarkers are doing it right," he said.
Under the emergency ordinance proposed Monday, social gatherings at private residences would once again be limited to no more than 10 attendees. Furthermore, police would be empowered to disburse groups of 10 or more people congregating along streets and sidewalks. Violators could be fined a minimum of $200 for a first offense and $400 for subsequent offenses.
Bars and restaurants would be prohibited from serving customers at the bar. Food and alcohol service at tables would continue to be allowed, as long as businesses follow state guidelines.
"Governor Carney's reopening plan is contingent upon key COVID-19 indicators trending downward. However, over the past several weeks, several key COVID-19 indicators have been trending upward," City Solicitor Paul Bilodeau wrote in a memo to city council. "Accordingly, the purpose of this Emergency Ordinance is to limit the transmission of the COVID-19 virus within Newark by imposing restrictions upon social gatherings within Newark."
Notably, though, the proposal does not go as far as the law the city implemented in March. The earlier law restricted restaurants to take-out and delivery, while the proposed law allows indoor and outdoor table service to continue.
The proposed law also does not restrict public gatherings, as the 10-person limit is only for private residences – a measure obviously aimed at curtailing the large house parties common when UD students return.
The proposal drew mixed reaction from city council.
"Our first concern is health and safety and I thought the ordinance was reasonable and is something that should be enacted sooner rather than later," Councilwoman Jen Wallace said.
Councilman James Horning Jr. said that while he supports discussing ways to keep people safe, the issue requires more thought.
"I feel strongly that this ordinance needs further discussion and input from these stakeholders that can be done prior to the return of students to campus for the fall semester," he said.
Ultimately, council voted 5-2 to delay voting on the ordinance, with only Wallace and Councilman Chris Hamilton in favor of proceeding Monday.
"I know a lot of folks that are fearing that the college folks are going to come back and they're going to be partying like crazy," Hamilton said last week. "We've done a really good job in this area, keeping the numbers down for COVID-19. But we do have about half our population potentially coming back, maybe a little bit less with some online classes being offered, but we're going to have a significant increase in our population in three weeks, and we need to be prepared for it."
UD classes start Sept. 1, but students will begin moving into the dorms earlier than usual in order to space out move-in. Off-campus leases typically begin June 1, so many upperclassmen are already in Newark.
The university will employ a hybrid model of education that combines face-to-face instruction and online learning, President Dennis Assanis announced last month.
Because of social distancing requirements, many classrooms are too small to be used. As a result, classes will alternate between in-person and online every other week, allowing two different classes to utilize the same classroom. Classes with more than 49 students will be conducted exclusively online.
Classes will meet twice a week. Some will meet on Saturdays to alleviate scheduling issues.
Assanis said the university will monitor health guidelines and "be ready to pivot" to exclusively online learning if circumstances warrant.
Assanis said UD is planning an aggressive "healthy behaviors persuasion plan" to educate students about proper behavior like wearing a mask and staying six feet apart.
"Part of it is developing the right culture, a culture of compliance," Assanis said. "The best enforcement is people believing in it and exhibiting the right social behavior. Kind of like the anti-smoking campaigns, with peer pressure, you can do miracles."
Students will be provided with masks and hand sanitizer and will be expected to wear masks in classrooms and other common areas. Assanis said professors are trained to deal with disruptive students and will similarly be expected to require students to wear masks.
UD will open a hotline for anonymously reporting people not complying with health guidelines. In the most serious cases, those people could be referred to the office of student conduct for possible sanctions.
However, the city's concern is less about what happens in the classroom and more about what happens on Friday nights and Saturday afternoons when students looking to unwind head to the Main Street bars and crowd into backyards along Cleveland Avenue and other party-centric areas of Newark.
It remains unclear how – or even if – a university that has long struggled to shed its party reputation can affect student behavior off campus.
Caitlin Olsen, UD's liaison to council, said Monday night that ensuring students practice safe behavior is a "top priority" for the administration, though she didn't offer specifics.
"I just want you all to know that it does weigh very heavily on the administration's minds and hearts. I have several meetings this week to make sure that we are in lockstep between our two entities to make sure that we're keeping our neighbors safe, we're keeping our students safe and we're keeping our businesses safe," Olsen said.
"We want our students to know they're Blue Hens on or off our property, so we expect them to behave accordingly," she added.