Election official: Long lines at referendum polls were caused by 'perfect storm' of problems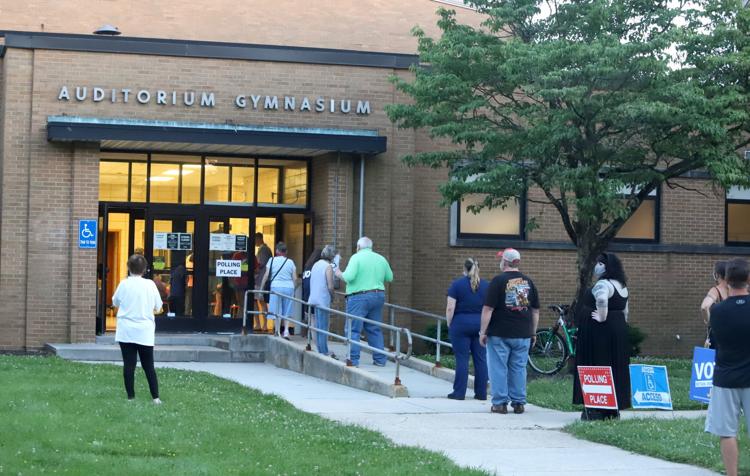 When Rick Sylves arrived at Downes Elementary School to vote in the Christina School District referendum last week, the line to vote extended out the door, through the parking lot and down the street to the intersection of Casho Mill Road and Pheasant Run. After waiting two hours, he finally got to cast his ballot around 9:30 p.m. – 90 minutes after polls were supposed to close.
The whole situation was "a debacle," he said.
"It was such a disaster, and it was that way the entire day," said Sylves, who added that his wife had to wait in the hot sun for 90 minutes earlier in the day.
Sylves was far from the only one who left the polls angry. Long lines were reported at many of the polling places, and Christina spokeswoman Alva Mobley said she believes there were hundreds of people who left without voting because of the lines.
Election officials have since acknowledged that they dramatically underestimated what the election turnout would be and understand why voters are upset.
"I empathize with that because if the shoe was on the other foot, I probably would feel the same way," said Tracey Dixon, director of the New Castle County election office. "However, for those folks, we are certainly not discouraging them from voting. We want everyone to vote."
Dixon noted that the referendum drew nearly 15,000 voters, with approximately 3,600 of those voting via absentee ballots.
That's the highest turnout ever for a Christina referendum, according to Dixon. The failed referendum in 2019 drew about 8,000 people, and the successful referendum in 2016 drew just under 14,000.
Dixon said her department took "an educated guess" and predicted turnout would be only half of what it ended up being.
"Christina School District really did a huge campaign. Their campaigning was tremendous, which I commend them for. It got them what they wanted, which was fantastic. I'm very happy for them," Dixon said. "But it also impacted other things, especially with the turnout, which in the long run is good."
Compounding the problem was a decrease in the number of polling places. As part of his pandemic-related state of emergency orders, Gov. John Carney directed the election department to reduce the number of polling places for elections being held this summer.
For the referendum, there were only 11 polling places instead of the usual 28.
Both Christina and the election department encouraged voters to vote absentee, and the department had additional staff working to process the increased number of mail-in ballots, which went smoothly, Dixon said.
"That one, we were able to handle. Unfortunately, we didn't anticipate another 11,000 people going out and voting in person," she said.
The department bought new polling machines last year, and for many poll workers and voters, it was their first time using them, leading to a "learning curve," Dixon said. A few of the machines had brief technical difficulties, as well.
"It was a lot of factors coming together at one time to kind of give us a perfect storm," Dixon said.
The long lines were a rarity for Delaware, which has historically been able to avoid the wait times and other problems some other states experience on election day.
"This was the first time ever we've had this issue," Dixon said. "We've never had a waiting problem, maybe 10 minutes at a presidential election, but nothing of the magnitude that we experienced this past Tuesday."
The next test for the election department will come July 7, when Delawareans cast their ballots in the presidential primary – an election for which there will also be far fewer polling places than usual.
Pursuant to the governor's orders, the department reduced the number of polling places from 175 in New Castle County to only 46. Unlike most years, voters can vote at any polling place.
Dixon said the department increased the number of polling places originally planned after seeing what happened during the referendum.
"We said, let's just be a little more prepared," she said.
Each polling place will have more voting machines than usual, and the department proactively sent absentee ballot applications to all registered Democrats and Republicans. She encouraged voters to submit their ballots as soon as possible, and at least five to seven days prior to the election.
Meanwhile, Sylves, who is a member of the city of Newark's election board, said during a recent election board meeting that he fears a repeat of the referendum problems during Newark's July 28 city council election.
"It was a truly bad day. I'm terrified that we don't want to repeat this here," he said.
However, City Secretary Renee Bensley said she is confident the election will go smoothly. The city will have its usual number of polling places – one for each of the two districts that have a contested race.
The city also proactively sent out absentee ballot applications and has already received 850 ballot requests, Bensley said. In a typical year, two council races see a combined 1,200 to 1,300 votes.
"My goal is to have as many people vote as have voted in past elections or more, with as few of them coming through a polling place as possible," Bensley said.